Wenzel's locations are strategically placed across the globe to offer customers the ease of doing business with us.  
Wenzel Downhole Tools GMBH has partnered with Ukrnaftagazservis (UNGS) to offer a fully operational downhole drilling tool service facility in Poltava, Ukraine.
Wenzel facilities contain state-of-the-art service equipment and are closely monitored for product quality, customer satisfaction, and HSE standards.
This YouTube video showcases the opening day for the UNGS – Wenzel service facility.
For more on Wenzel's locations around the globe, please see our Facility Locations.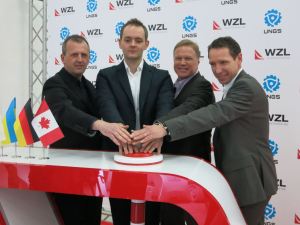 Photo: UNGS/WZL Opening Nov. 18, 2014.
L-R: Waldemar Eippert, Wenzel Europe, Business Development Manager Ukraine; Igor Vitryk, UNGS, Director; Chris White, Wenzel Downhole Tools, Vice President, International Sales; Dirk von Kittlitz, Wenzel Europe, Managing Director.